Buffalo check pumpkins are fun and versatile for fall decorating.  They are also super easy and enjoyable to make.  
I began sewing at a very early age.  The art and skill provides an income and creative outlet that I simply can't imagine living without.  This project would be great to complete alongside your children, provided they are old enough for basic hand sewing.  Create pumpkins together that you can proudly display year after year!   
Skill level: Beginner 
Time to complete:  1-2 hours.  This totally depends on the pace (i.e., if you are working alongside young children) and how detailed you are! 
Supplies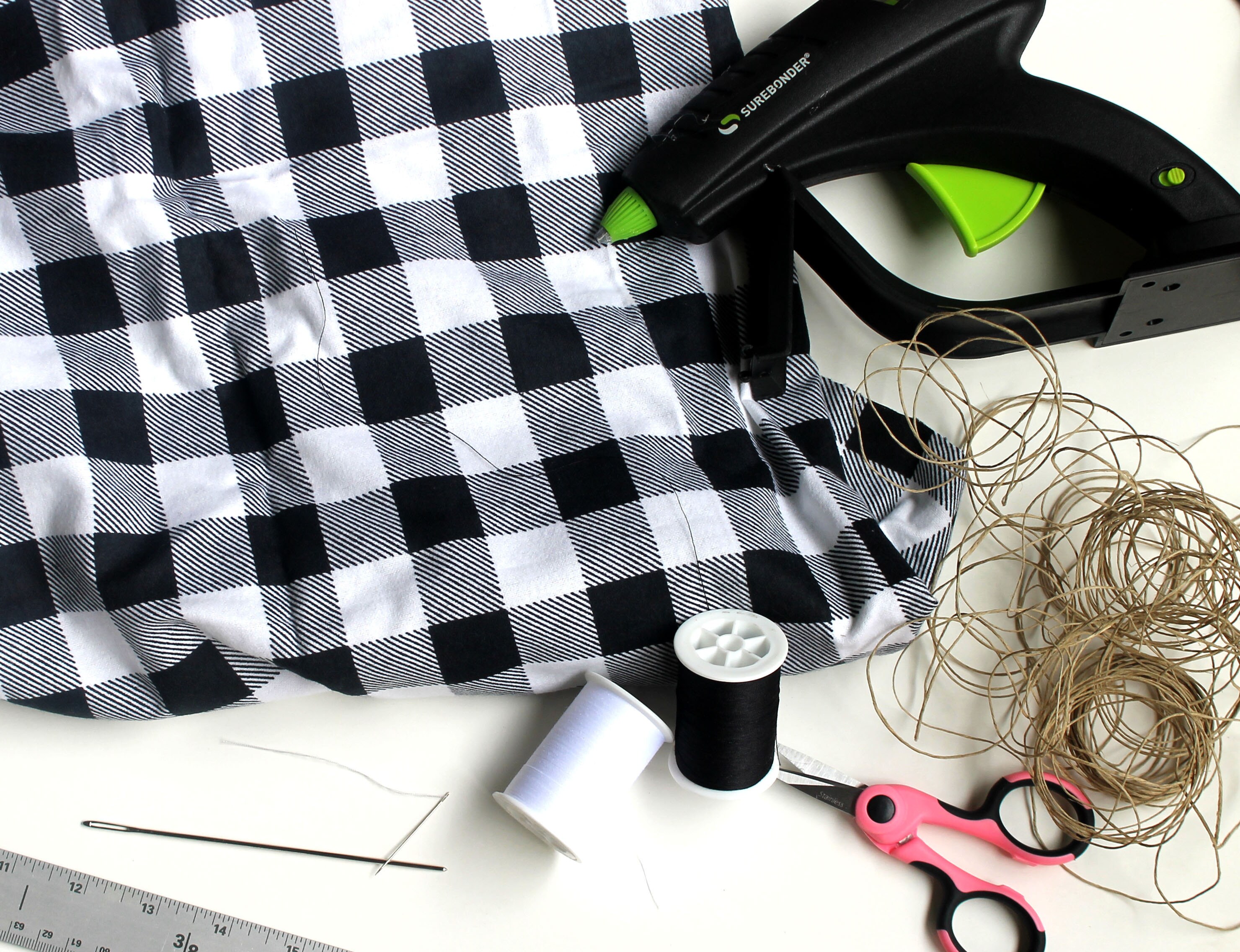 You will need:
Fabric:  1/2-3/4 yard of buffalo check.  I used Snuggle Flannel White Buffalo Check, available online at www.joann.com.  
Yard stick, measuring tape or ruler
Scissors
Sewing machine OPTIONAL
Standard needle and thread OR embroidery needle and 1 skein of embroidery floss.  I recommend the embroidery needle/floss option for smaller hands or to further simplify.
Hemp Cord
Embroidery needle or weaving needle.  I recommend 4-5" length.
Poly-Fil, 1 bag
Hot glue gun and a glue stick
Step 1:  Measure and Cut
These instructions are for making a set of 3 pumpkins, ranging from small to large.  You will not need a measuring device if you purchased the fabric I used as each square measures 1", just count the squares, easy-peasy!  
Cut just one of each of the following rectangular shaped pieces:
4" x 8"
8" x 16" 
12" x 24"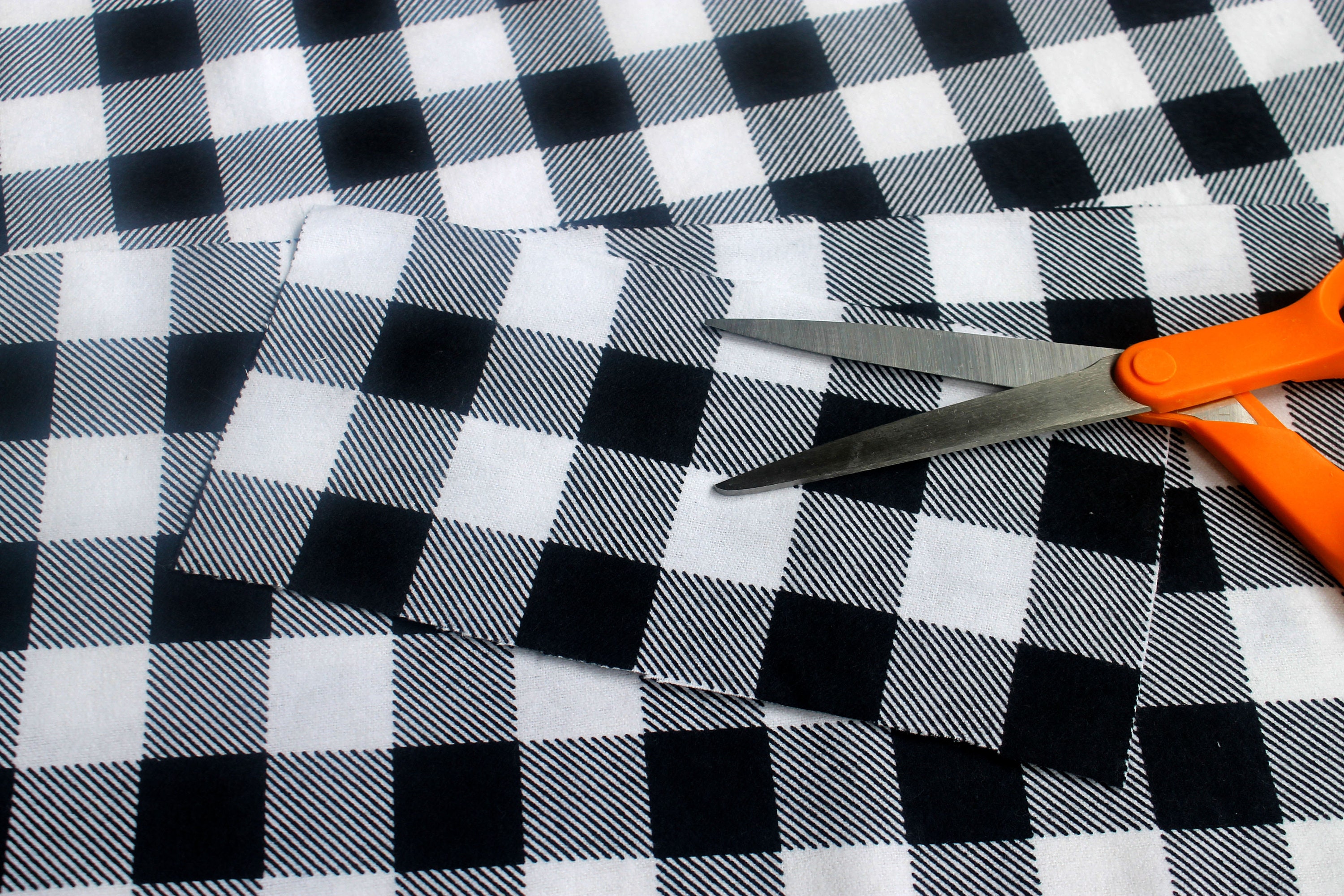 Step 2:  Stitch
Begin with your smallest rectangle.  Fold it in half, lengthwise, placing the printed side of the fabric together as shown below.  Using your *sewing machine set on a standard straight stitch, simply stitch the shorter edges together as shown.  Don't forget to secure by backstitching at the top and bottom.  Only stitch the outer edge.  We will sew the top and bottom together by hand in separate steps later.  Repeat this step for your larger pieces of fabric. 
*Sewing machine optional.  You could totally sew this by hand.  Here is a tutorial for several hand-stitching techniques, use the one for straight stitching:  Apartment Therapy Tutorial on Stitching.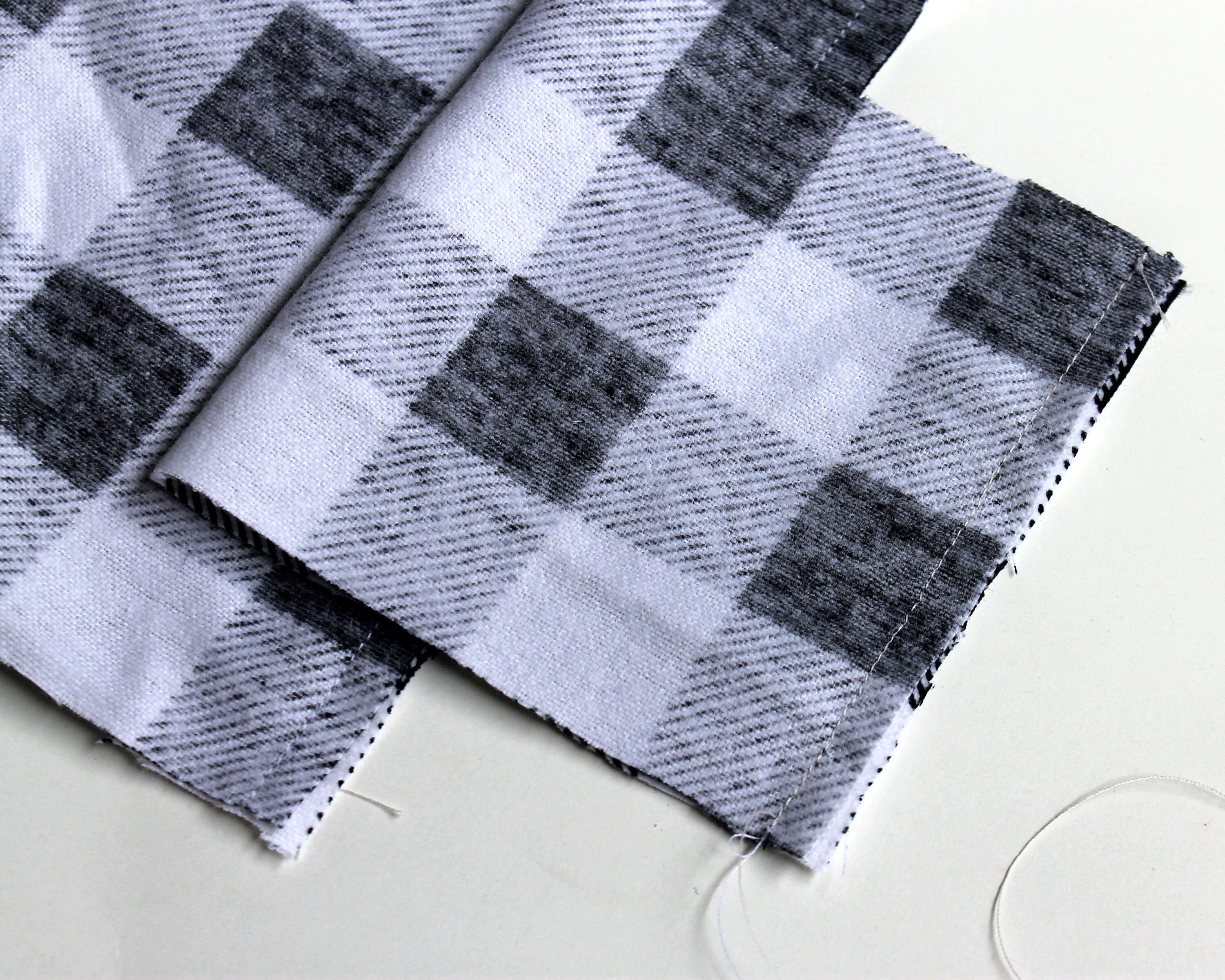 Step 3:  Create Your Base
Thread your *needle with a piece of thread measuring around 12" long.  Triple knot the end.  With the wrong sides of the fabric still facing you, gently pass thread through one layer of the fabric using a simple straight stitch as shown below.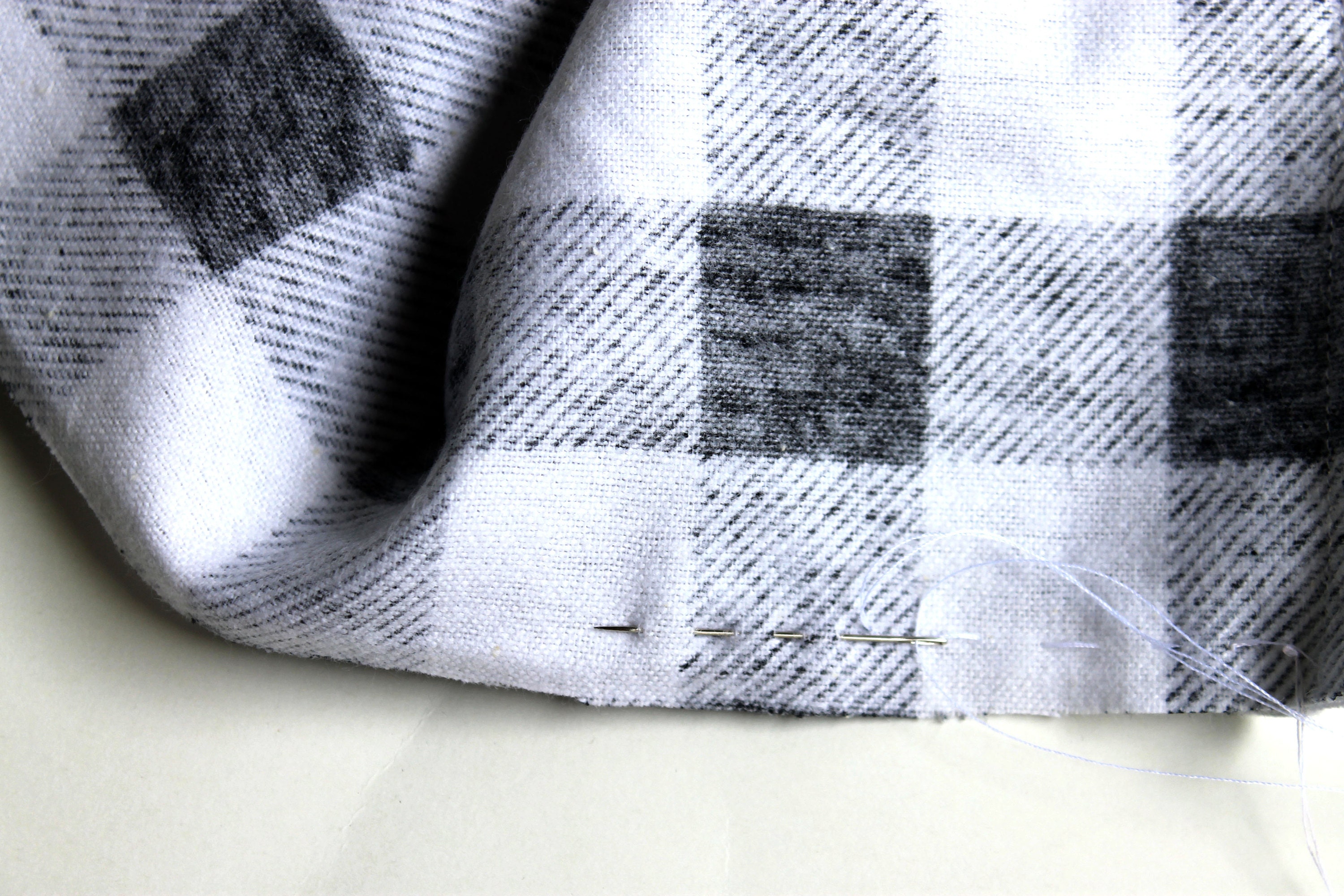 Once you have sewn through the entire base, gently pull the thread ends to gather the fabric, as pictured below.  Be sure to pull them tightly.  Knot to secure.  Repeat this step for your larger pumpkins.  
*Standard thread may ak when pulled too tightly, which will make this a bit difficult for smaller hands.  Simply use an embroidery floss and needle instead.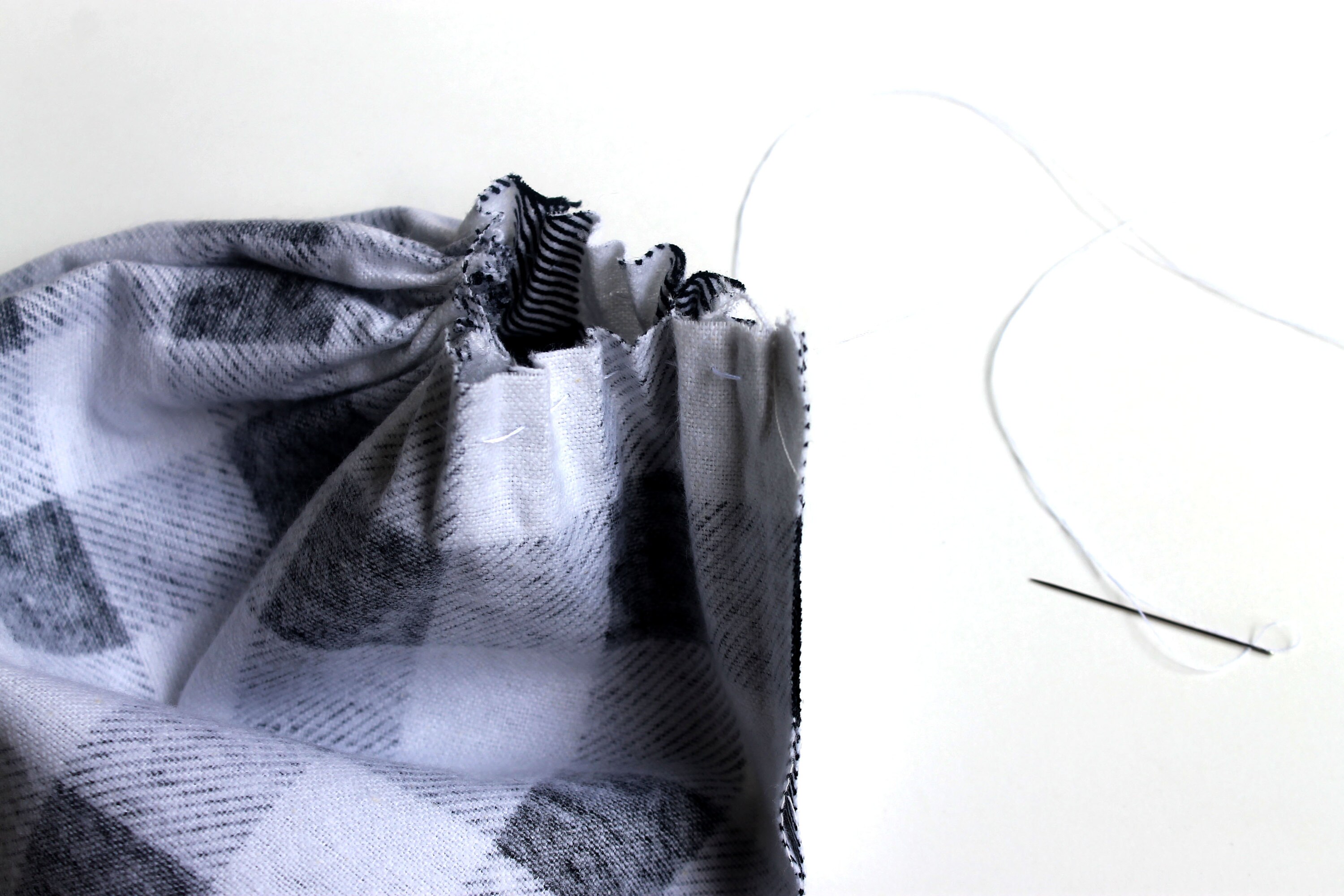 Now, turn it right side out and this is what the finished bottom will look like.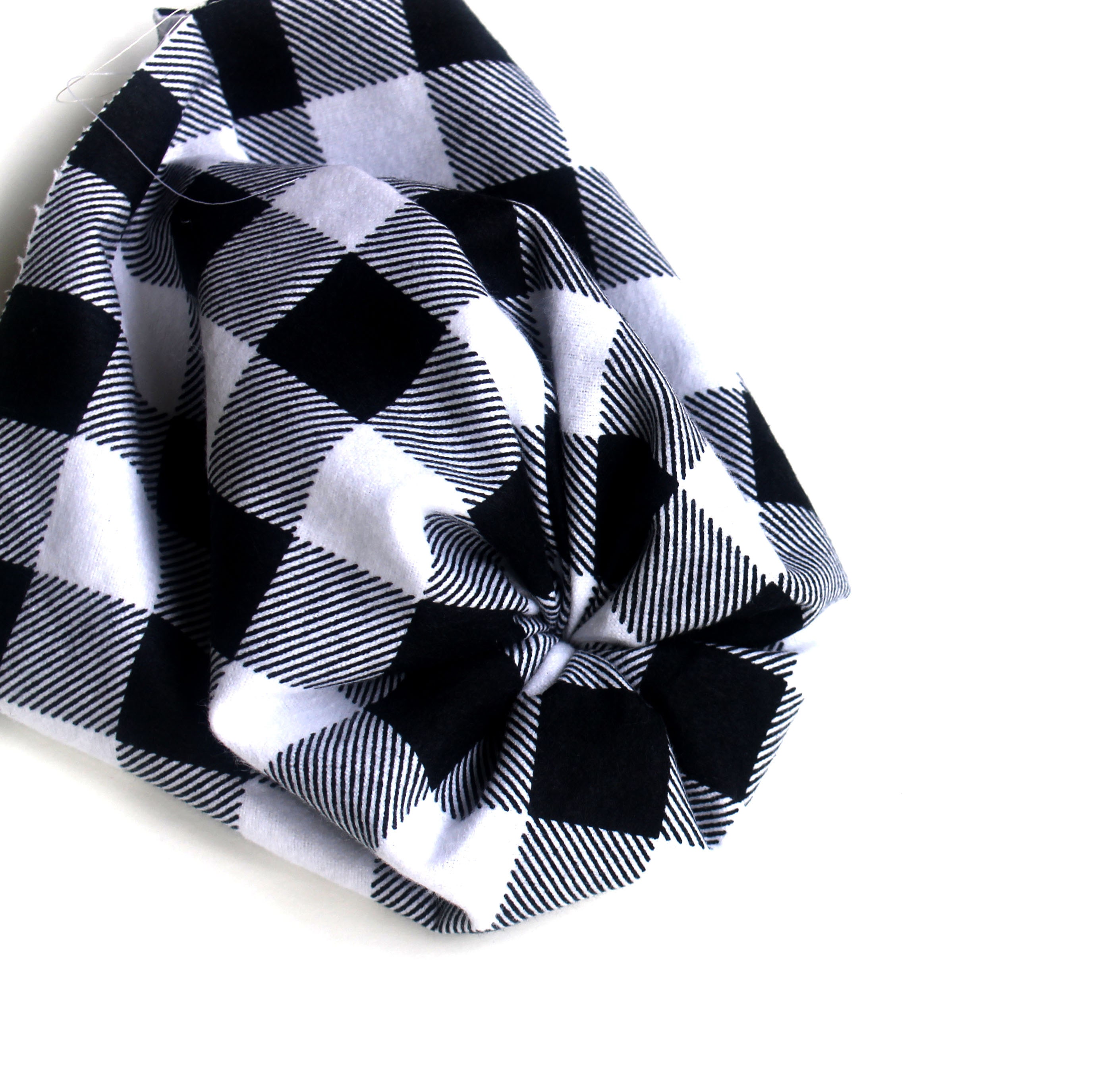 Step 4  Stuff 
Flip your smaller pumpkin right side out and stuff it with Poly-Fil.  You can fill it as full as you'd like- the pumpkins shown are filled almost completely.  Repeat this step for your larger pumpkins.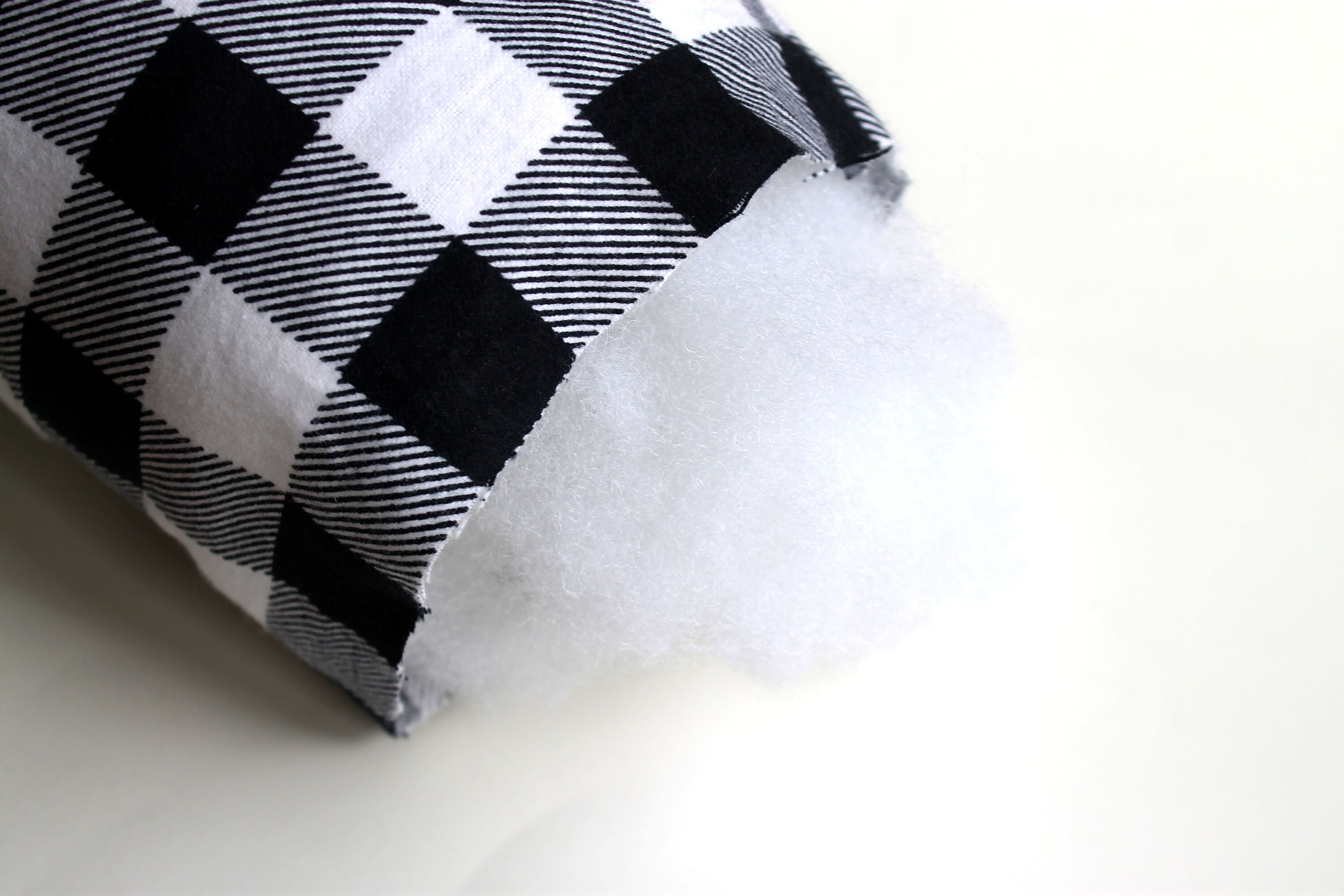 I recommend filling it firmly toward the bottom, this provides a nice base.  I also like to stuff it until about 1" from the top (as shown below).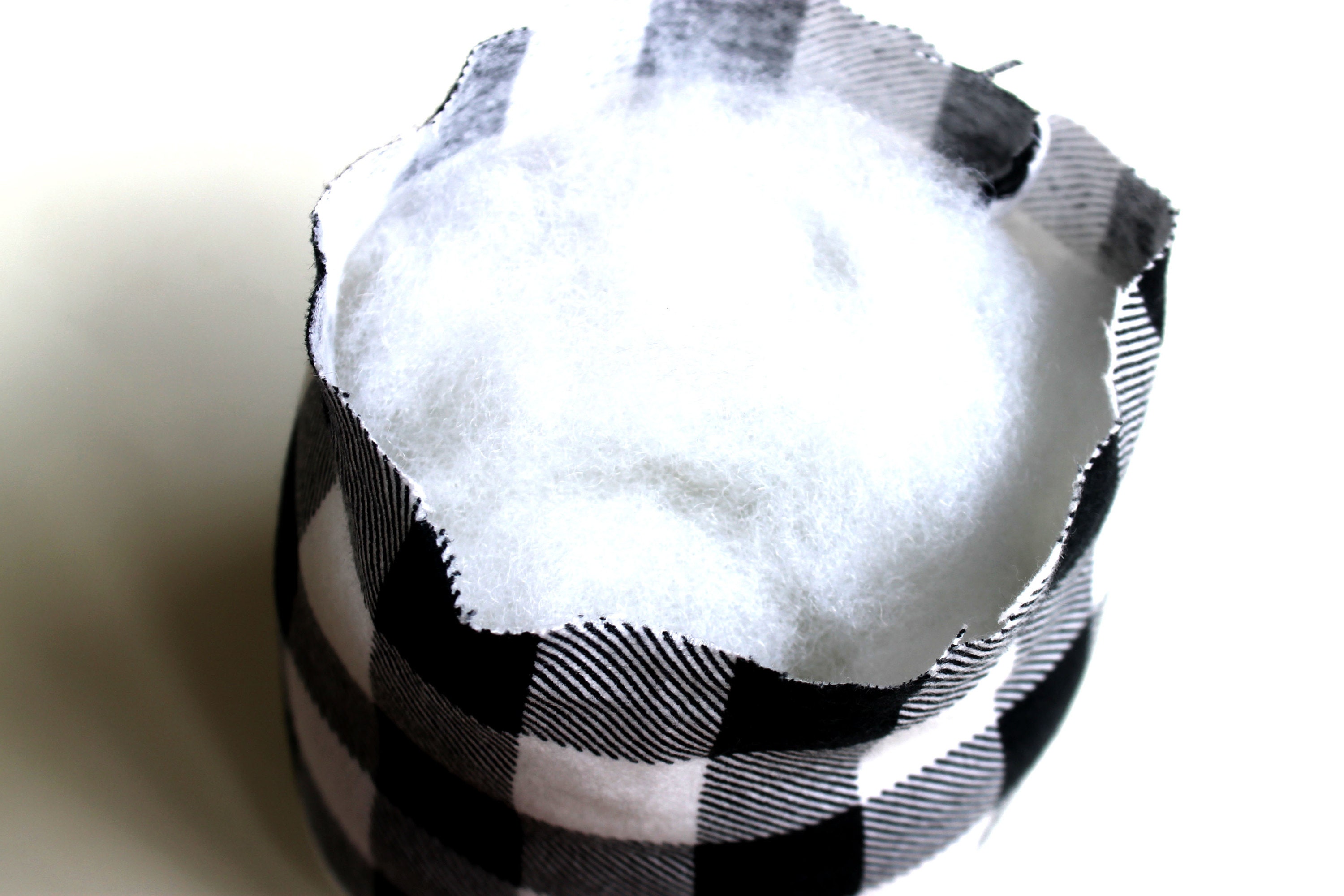 Step 5 Closing the Top
Using the same technique from step 3, stitch and gather the top of the smaller pumpkin.  Once closed, gently tuck the raw edges into the pumpkin using a dowel (your bag of Poly-Fil should include a wooden stuffing tool that will work great for this).  Repeat this step for your larger pumpkins.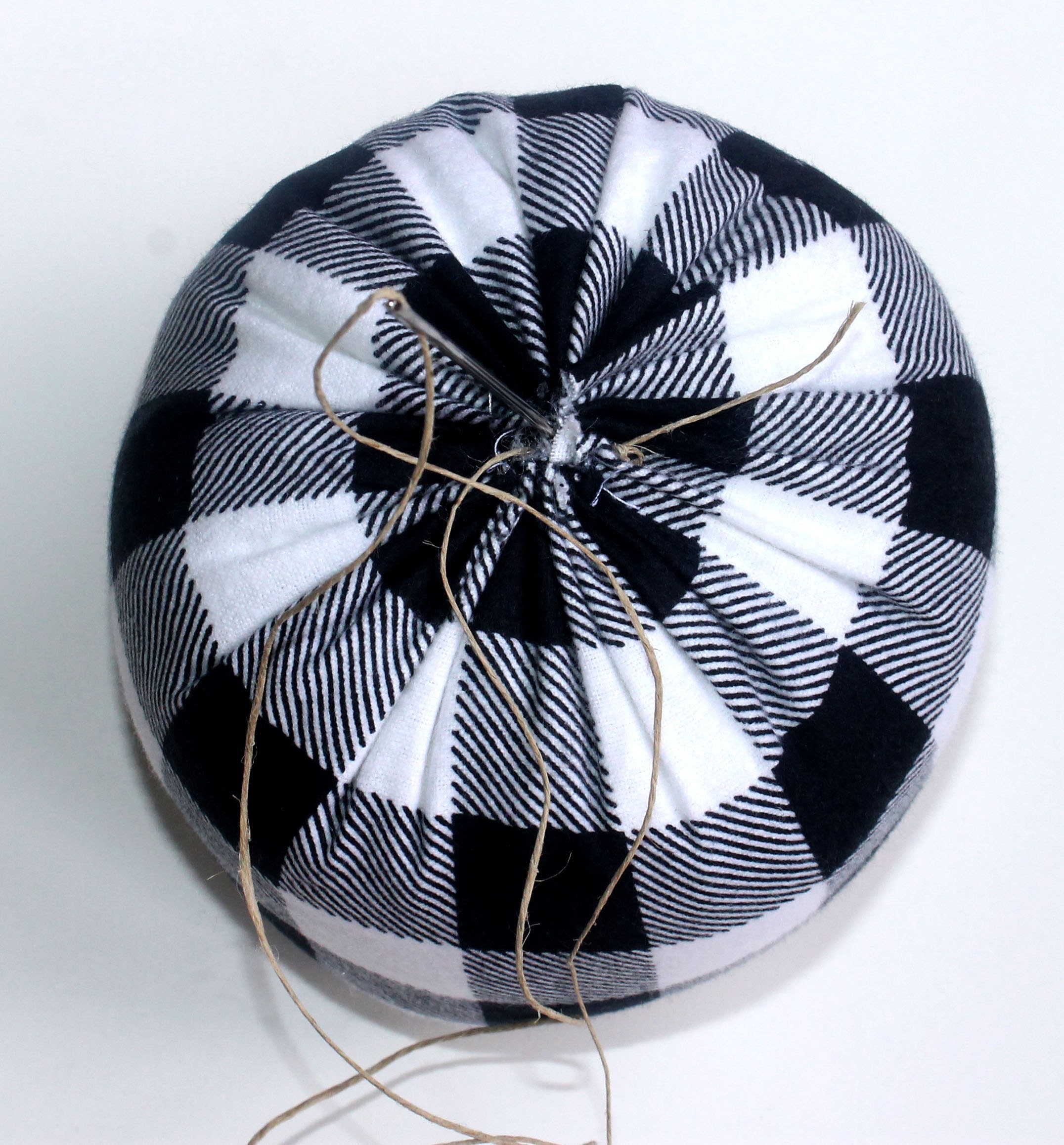 Step 6 Shaping 
Thread your long embroidery or weaving needle with a piece of hemp cord, being sure to double knot the end of the cord.  For the smaller pumpkin, I used about 24" of cord.  Pass the needle through the center of the pumpkin 5 times to create tufts (see image below) that give the pumpkin shape.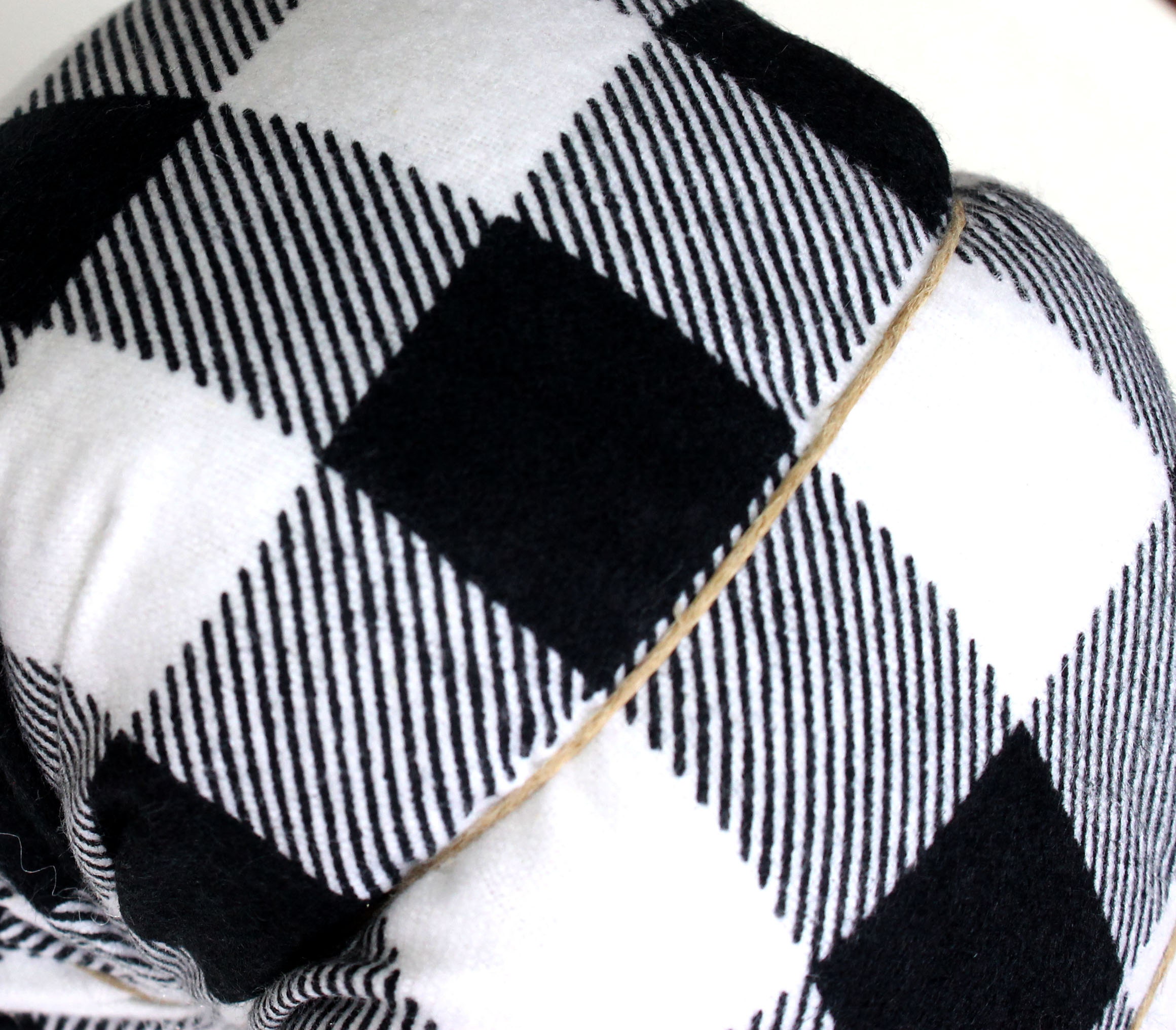 Pull gently each time and then tie it off to finish.  At this point, you can clip the cord tails or just twist them and they take on a tendril like appearance.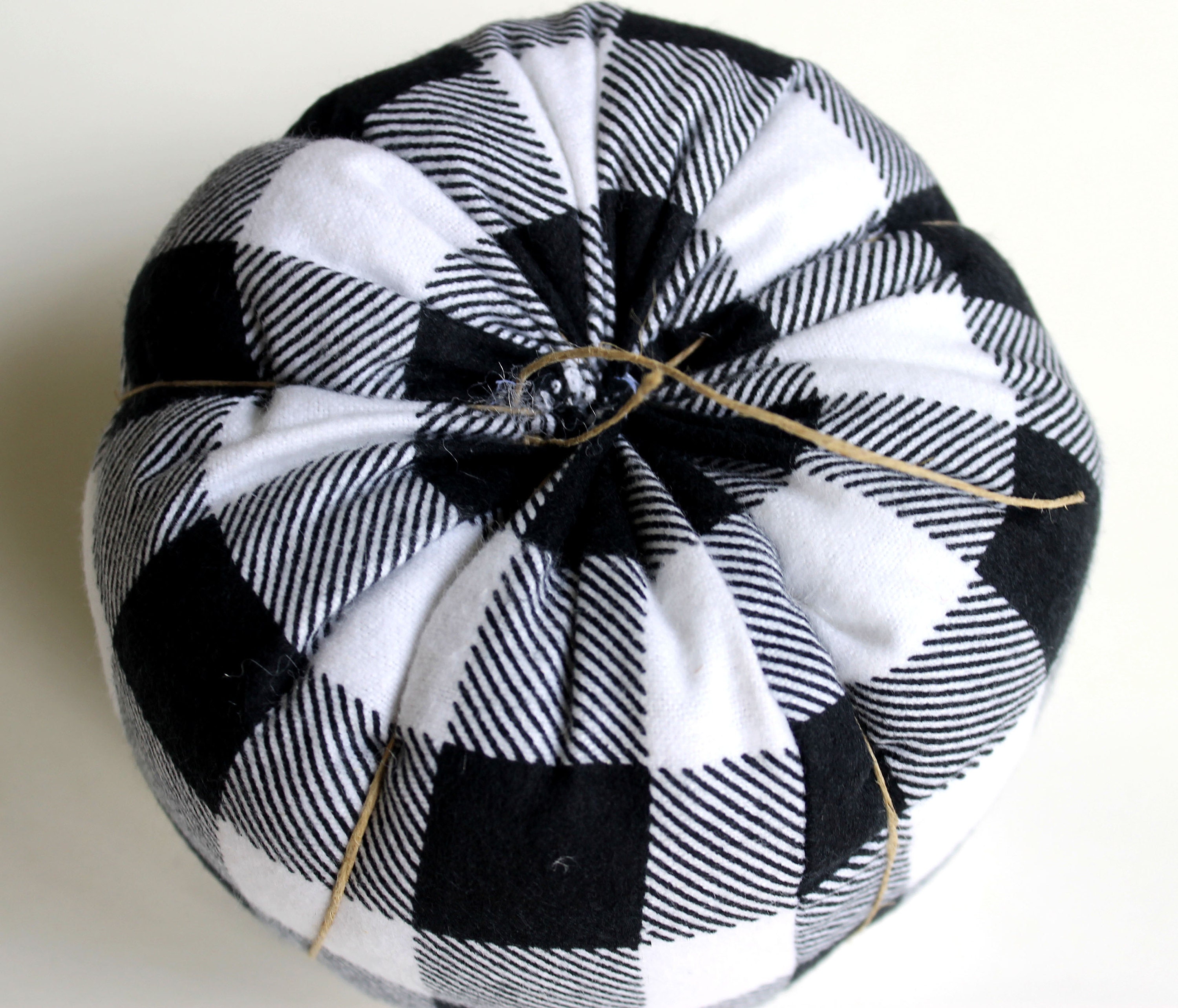 Step 7 Add Stems
My 2 year old really enjoyed helping me find branches around the yard that we turned into pumpkin stems by simply breaking and cleaning them.  Make sure they are about 1-3" long each.  Apply some hot glue to the bottom and lower sides and then carefully tuck it into the pumpkin.  Hold it in place for a few seconds to help secure it.  Repeat for the larger pumpkins.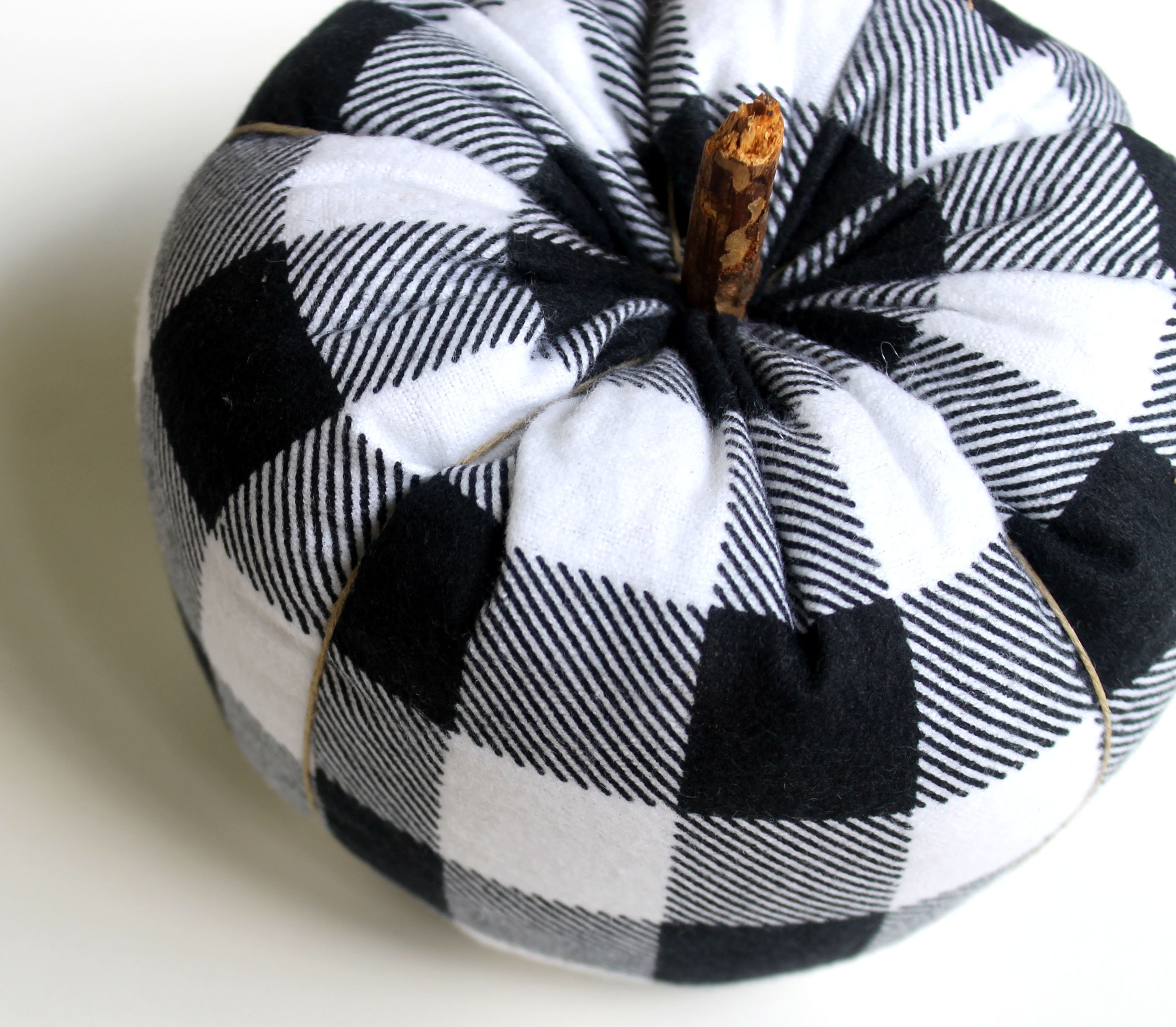 Step 8 Finishing Touches
Step back, make sure that any hot glue strings are removed, that your hemp cords are lined up nicely and there aren't any lumps in your poly-fil stuffing.  If there are, these are much like fluffing pillows-just gently squeeze and roll them until they are shaped just like you want them.  Enjoy!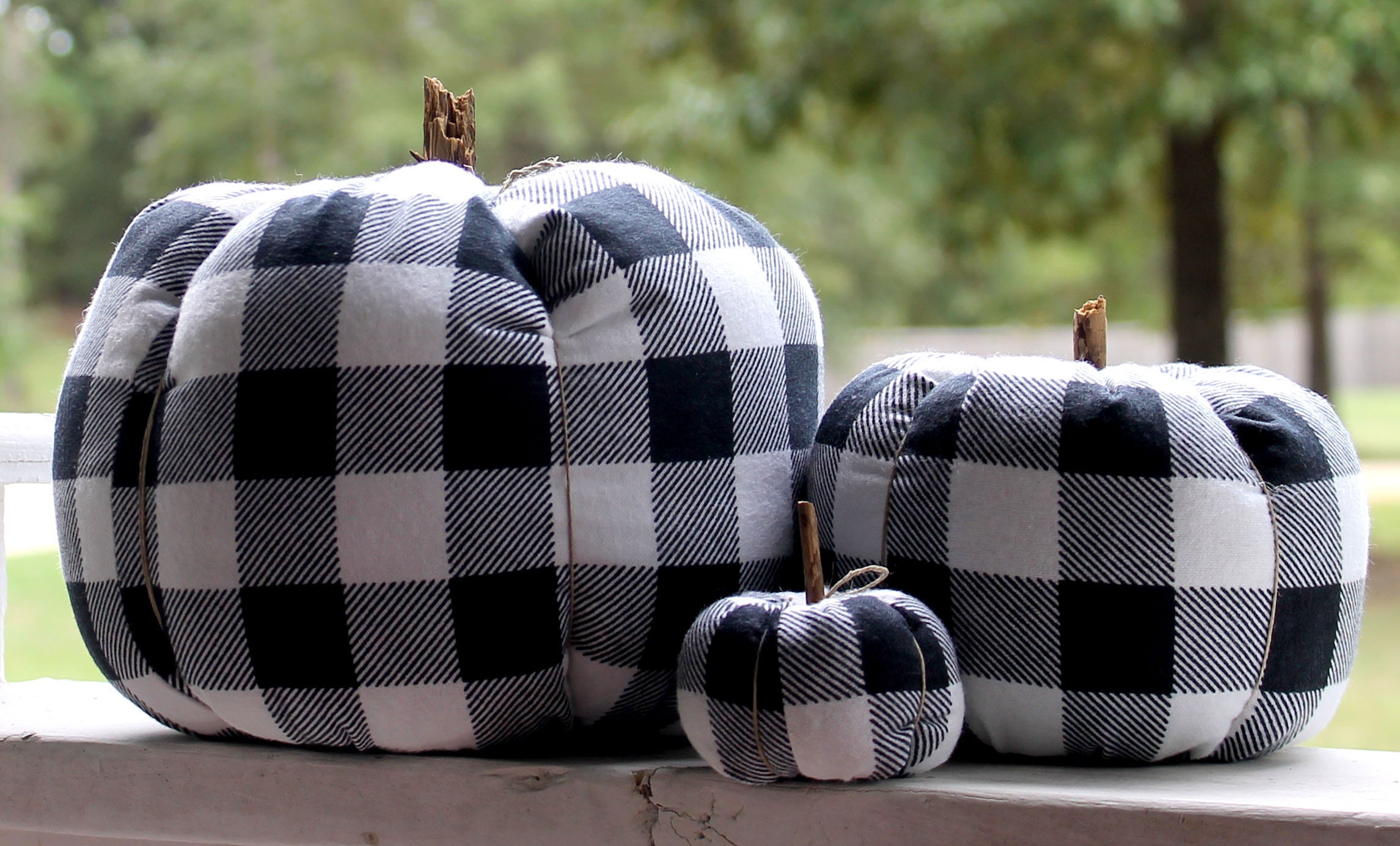 Be creative! Add leaves, initials, different colors, sequins, etc... and please share pix here or on my IG www.instagram.com/jamieanncousins or www.instagram.com/storybookgoods.  Happy Making!